Technically any gas that's less dense than air can make balloons float. For latex and foil balloons to float, they need to be inflated with helium.
Helium is colorless, non-toxic, odorless, tasteless and doesn't burn.However, because helium deflates more quickly than air, this should only be done with decorations which are needed in one day.
More helium is very expensive, so it is not a good choice to use the helium to create balloon decorations.So for your future parties or events, consider following great helium-free balloon decorating ideas!
Balloon decorations without helium
Want to know how to make a balloon float without helium?  Below are several ways to decorate with balloons that don't involve the use of helium.
Balloon arches without helium
Balloon arches are the most dramatic and stylish balloon decorations, in general, balloon arches do not need helium, because they do not need to float.
And what is more, compared to air-filled balloons, helium balloons deflate faster and cost more, so balloon arches with helium are bad choices.
Balloon garlands without helium
Balloon garlands are getting more and more popular these years, which is probably because of the helium shortage.
We do not have to tie balloons to structures to prevent balloons from floating away, balloon garlands are structures that helium-free balloons up, allowing them to "float" without helium.
Just simply inflate different colors balloons to a range of different sizes,and tie onto nylon or string then you will get a stunning balloon decoration.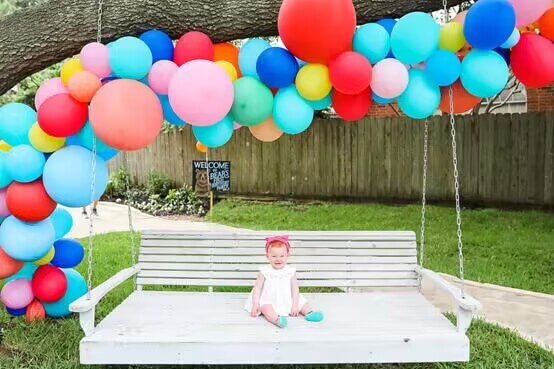 Balloon centerpieces without helium
By tying balloons close together, forming a "balloon bouquet", we can make helium-free balloons look like floating.
For a non-helium balloon centerpiece, all we need to do is to tie several balloons together, by laying the top balloons between the lower layers balloons, so that the lower layers to hold the top layer balloons up.
Tie the balloons to the wall
If you don't have the time to create a balloon garland or balloon arch, following is a simple idea. You can just hang balloons to the wall, using tapes or other simple ways to make them appear to float.
Build a balloon wall
In this way,you can just simple make a wall only with the balloons. Similar to the balloon centerpieces, you can tie lots of balloons together on the wall, making them look to float by being hold by other balloons.
Hovering balloons
Another simple way to make balloons seems to float is to use string to tie balloons and hang these air-fill balloons from the wall.
You can use thin strings and balloons more easily distributed, making balloons seem to float in air, with appearances that balloons are floating without any external structure support.
Hang Balloons from the Ceiling
by hanging balloons from the ceiling, you can get images as if those balloons are filled with helium.
Attaching the string as you normally would, and then tape the string to the ceiling so that they are hanging upside down!
You also can place large clusters of balloons over your party table, it will be very impressive.
It's simple to set up and clean up when the party is over, and no worry about making the extra trip to have them filled up.
Using Specific Foil Numbers Balloon or Mosaic balloon frame
Numbers balloons are great for parties,The best part about using numbers balloons is that it will help you remember the milestone,you were celebrating when you look back on your pictures!
You can use numbers in following ways,You can buy balloons that are shaped as specific numbers and They're easy to use and quick to set up.
The foil balloons are looking great when hanging on the wall or from the ceiling, Also mosaic balloon frames are good choice.
you can make the specific number with a sturdy material,like foam cardboard filed the mosaic frame with balloons.
Cover the Floor
Using balloons to cover the floor is a very simple and time-saving way to celebrate for a graduation or a child's birthday.
The helium-free balloons will stay on the floor and move around as people are walking through and breezing by them.
Kids would love chasing these balloons, it would add a tone of fun and exciting atmosphere for parties.
Attach Balloon to Streamers
Streamers are a common addition to balloon parties. If you use these streamers together with the balloons, you will get a nice way to decorate birthday party.
Usually we will hang the streamers to the ceiling or the wall.
Then just tape the balloons to the streamers to get a new look.
During the whole process, no helium at all. The streamers will keep balloons off the floor and they seem floating.
Use Letters or Words Balloons
Nowadays, more and more people are using actual foil letters balloons or words number balloons to help celebrate at parties.
Using balloon letters is very easy, as they often come in a pack Using a string or streamer to attach each letter and string it on a wall for party background.
Your friends would love taking pictures with this balloons backdrop.